Issues
Volume 6, Winter 2014/2015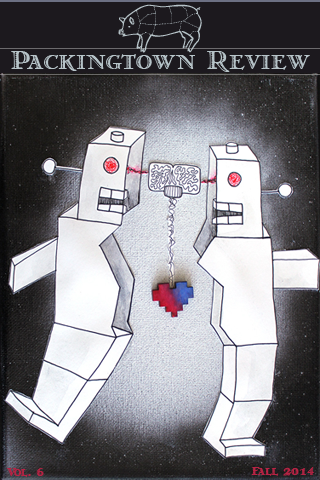 During the better part of 2014, poems, stories, and art from the U.S., Serbia, Ireland, Cuba, and Germany would slide down our assembly line until all the parts of Volume 6 clicked together; if this issue were a robot, it would look like the one on our cover page.
Here are two poems from the upcoming issue: "Alfred Hitchcock Is Dead" by David P. Rogers and "Thirteen Ways of Looking at Alfred Hitchcock's Blackbirds" by Deborah DeNicola. As far as we know, David and Deborah did not conspire to write and then submit poems about the legendary director, and they likely haven't even met, so this is a surprise for them too.
Our cover art is "Heart and Brain" by Michelle Graves, one of our featured artists in the upcoming volume. Enjoy and stay tuned!
Volume 5, Fall 2013 (Online)

Volume 5 is here. You can read new poetry by David Starkey, Mercedes Lawry, Lauren Russell, Susan H. Maurer, Elisabeth Arlen, Robert Nazarene, Paul Smith, Spencer Smith, and our former poetry editor Chad Heltzel, and hear Jenene Ravesloot and Tom Roby front the poetry-music project Omniphonic. We also bring you prose by Jessica Young (with Young reading her story out loud), J.A. Bernstein, Sherard Harrington, George Bishop Jr., and B.J. Hollars, and art by Dan Ivec, Tricia Rumbolz, and our former art editor Jennie Berner. Read, listen, and view the issue in the sequence we propose, or jump around. Either way, this issue will last you longer and delight you more consistently than spring in Chicago.
Read It
Volume 4, Spring 2013 (Online)

We're back, this time as an online journal! This issue features "Bronzed" by Nick Kocz, the winner of the Packingtown Review Flash Fiction Contest, and the runner-up Susan Phillips's "If Mama Had'a Raised Eminem," selected by our contest judge Kathleen Rooney. We're also proud to present art by Larry O. Dean, Gretchen Hasse, and Verica Patrnogic, poetry by Sara E. Lamers, Paul Martinez Pompa, Anthony Madrid, R.D. Morgan, Ksenija Simic-Muller, and Diane Solis, and critical prose by JoAnne Ruvoli and J.A. Bernstein.
Read It
The "Lost" Volume 3 (Not-Yet-In-Print)

The third issue of our print journal was scheduled to appear in March 2012. Although the issue was completely edited, laid out and proofread by late 2011, virtually all of the sources of financial support for Packingtown Review ran dry by the time the issue was turned over to the University of Illinois Press. To this day, the press is holding the issue's content and the list of subscribers as collateral as we are slowly paying down our debt. Please stay tuned for further developments.
Volume 2, 2010 (Print)

Our second issue includes drama by Janet Burroway, John Greiner, and Dayana Stetco, poetry by Julie Carr, Norman Dubie, Michelle Glazer, Matt Hart, Karen An-Hwei Lee, and Joshua Marie Wilkinson, prose by Johanna Drucker, Daniel Nester, and Effie Yiannopoulou, art by Victoria Bischtok, and more.
Volume 1, 2009 (Print)

Our inaugural issue includes: prose by William Ayers, Ricardo Cortez Cruz, Noah Eli Gordon, Davis Schneiderman, and Curtis White, poetry by Brenda Hillman, Paul Hoover, Tung-Hui Hu, Claudia Keelan, Alessandra Lynch, Sheila E. Murphy, Dennis Phillips, Sun Yung Shin, and Rosmarie Waldrop, drama by Phillip Dawkins and Paula B. Stanic, art by Wayne Leal, and more. It also features the winner of the Packingtown Review Prize for Critical Response, Deborah DeNicola's essay "Hoover's Eternal Moments."
About
The Past
2007-2011
Packingtown Review was founded in 2007 at the University of Illinois at Chicago by Ph.D. students in the English department. The first two issues feature poetry, prose, drama, literary scholarship, and cultural commentary by new and established authors not only from the United States, but also from Germany, Romania, Greece, Egypt, France, Holland. The first issue came out in March 2009, and the second in March 2010. To order back issues at $10 per copy, e-mail us at editors@packingtownreview.com.
The Future
is now
Packingtown Review launched in April 2013 as an independent online publication. Check out our current issue.
Editorial Board
Snezana Zabic

Tasha Marren

Todd Marren

Cynthia Cravens

Roxanne Pilat

Dubravka Juraga

Heather Brown

Cheryl Hitosis
Submit
General
Please include

a cover letter, as well as a self-addressed stamped envelope (SASE) along with your submission.
All unused manuscripts will be recycled.

Simultaneous submissions?

Yes, but we ask that you indicate in your cover letter that the manuscript has been submitted elsewhere and that you notify us ASAP if it is accepted by another publication.

Feedback?

Although we would love to comment on all manuscripts, the volume we receive precludes us from doing so. But please know that each submission is read carefully and given thoughtful consideration.

Electronic submissions?

At this time, we do not accept electronic submissions for poetry and prose. However, if you are submitting artwork, please see the details below.
Previously published material is also not accepted.

Response time?

Approximately three months. If you have not received a response after three months, feel free to send an email query.
Snail Mail
Accepting Submissions
Packingtown Review
111 S Lincoln St
Batavia, IL 60510
Poetry

Send three to five poems. Do not exceed ten pages of single-spaced verse.
Fiction, Scholarship, and Non-Fiction

Send up to 4,000 words of double-spaced prose. Please list name and page number on each page of the submission. For scholarship, please submit your work in accordance with The Chicago Manual of Style.
Drama

Send up to 15 pages of play-writing or screenwriting (excerpts or completed scripts) for consideration. Work need not stand alone. Please list name and page number on each page of the submission.
Translations

Please provide the original text with your English translation. Also procure publication rights from the original author or authors estate. See above for genre guidelines.
We invite visual artists to submit their work electronically to editors@packingtownreview.com. Please include 3-5 pieces as jpeg file attachments, and list the titles of your submitted pieces in your cover letter. Your cover letter should also include a brief artist statement (for examples of such statements, see our current issue).